CEAD Digital - All your Communications Solutions

StratosMedia - Hybrid Cloud Digital Communication Platform
StratosMedia is a complete solution for the development, distribution, and on-going management of advanced digital content for multiple devices. Different needs require different solutions. With simple installations and boundless creativity, the sky's the limit for digital signage and CEAD offers many solutions.
StratosMedia allows you to create intelligent and engaging customer and brand interactions at broadcast quality across multiple platforms and locations professionally and securely. From the intuitive drag and drop content to embedded advanced media asset management, network security and delivery of broadcast quality content to 1000's of devices, StratosMedia delivers at every point.
 About Digital Signage
StratosMedia Digital Signage Communication Platform offers easy installation and infinite imagination and can reach unlimited heights attracting audiences in a more exciting and dynamic way than the printed media.
Digital media allows messaging and material uploaded in real time which effectively impacts customers, employees and other interest groups in an innovative and positive way.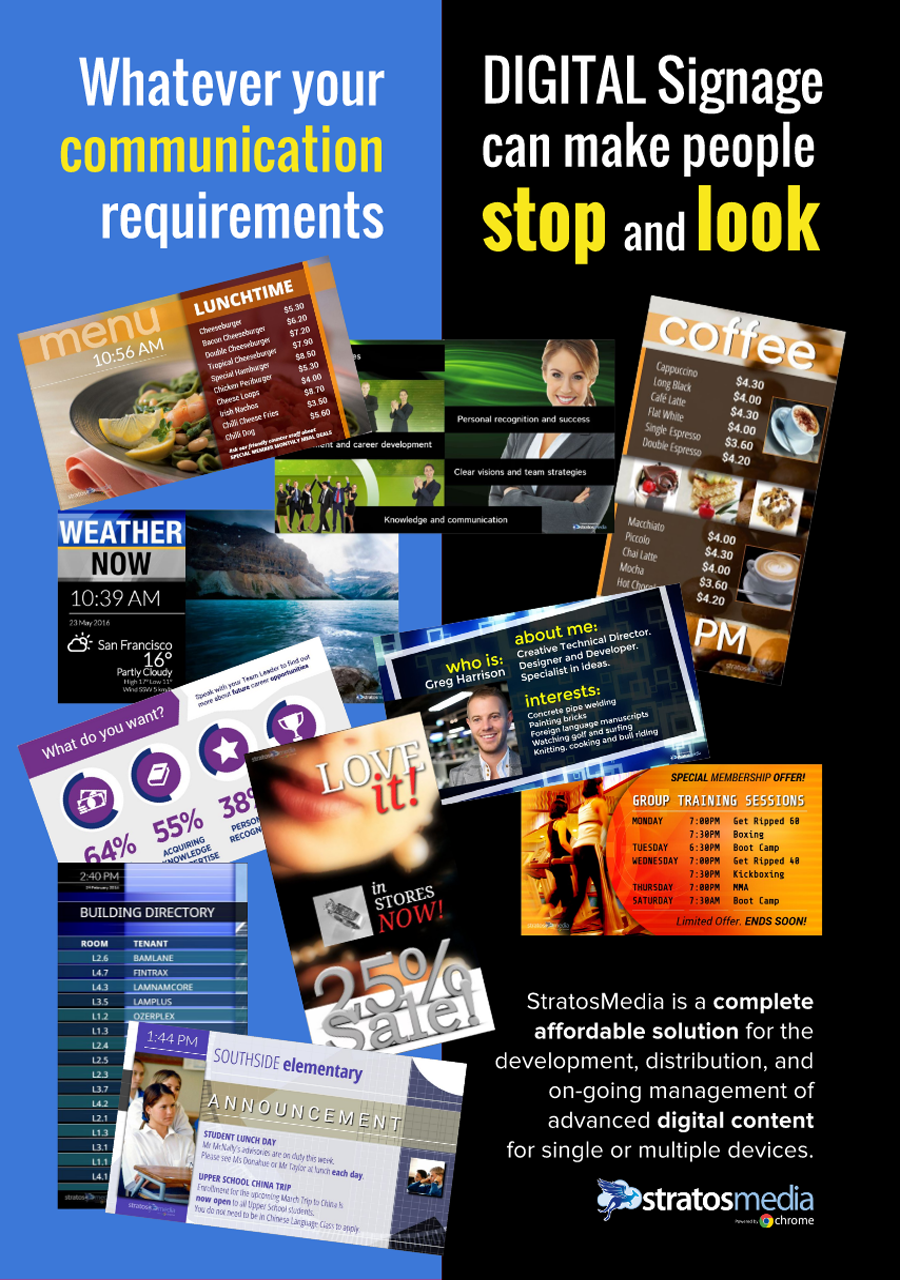 Needs and demands have changed and expanded throughout the years, the basic concept has always been the same; present high quality content to your viewers with dynamic playback, control and reliability. StratosMedia has recognised the interactivity, responsiveness and mobility features that the public expects and provides all this and more.
Content Management – Simple | Fast | Intuitive
Managing and publishing content quickly and easily is crucial.
With our intuitive platform, StratosMedia helps you manage your video assets and content library, create, schedule and distribute your material painlessly enabling you spend more time creating the high-quality , dynamic and engaging content.
Watch the video to see how easy it is to manage and update your content
Try StratosMedia FREE for 30 Days
StratosMedia STANDARD includes many of the ENTERPRISE features, and is hosted in the same fast, secure data centres.
.